Introduction
Microscopes are a beautiful window to a whole new world that surrounds us. Given the accessibility and the ease of use of the modern day digital microscopes, many of us enthusiasts have spent days looking at this beautiful world and being fascinated by it every single moment.
This Art Installation imagines a past where all of our favourite artists were as fascinated by the Microscope and the Miscroscopic world as ourselves. We take hundreds of images of interesting objects pictured under a microscope, and then use Neural Style Transfer to interpret them in the Artistic Styles of various artists like Leonardo Da Vinci, Katsushika Hokusai, Vincent Van Gogh, Wassily Kandinsky, Yayoi Kusama, Sonia Delaunay, Jackson Pollock, Edvard Munch, etc.
This piece is a collaboration with Fernan Federici, who apart from being an amazing scientist, also shares my facscination with creating and appreciating beauty. And as the Wired Magazine describes his work, he has a knack of "of finding art in unexpected places"
History
The origin of this installation dates back to October 2018, when many of us were gathered in Shenzen, China for the Gathering of Open Science Hardware (GOSH), an annual event where many Open Hardware and Open Science enthusiasts huddle together every year to think about the future of Open Hardware for Science. This time, among the many interesting discussions, a few of us inebriated Art lovers started imagining how would have Van Gogh's paintings looked like if he was as fascinated with the Microscopic world as us. Especially given his psychotic episodes, and how trippy many of the images in the Microscopic world were. It wasnt hard to connect the dots, as Van Gogh's Starry Night was a text book example for Neural Style Transfer and Fernan already had a reputation for taking beautiful pictures under a Microscope. A few hours of hacking later, we had our first impromptu installation which we enthusiastically exhibited at GOSH the very next day. People loved it !
We continued to collaborate after GOSH, and came up with Neural Style Transfer based reinterpretations of hundreds of pictures taken by Fernan and his team, in the styles of various artists.
The first official version of this installation was exhibited at the AI for Good Global Summit 2019, at ITU, Geneva.
Creations
A composite video showing a large number of such creations is available here :
A small selection of some of my favourite pieces are available here :
Gracilaria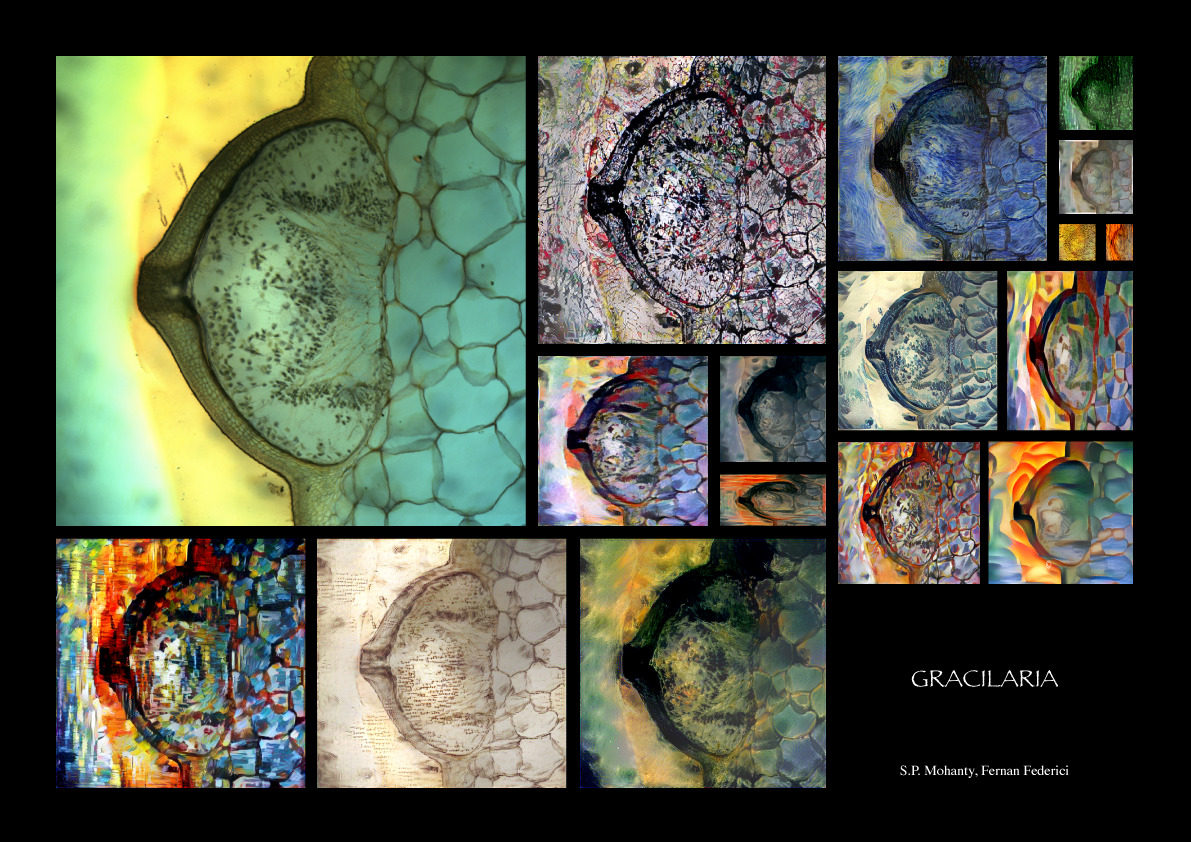 The source image of this piece is obtained by confocal mciroscopy of a Gracilaria cross section.
Vino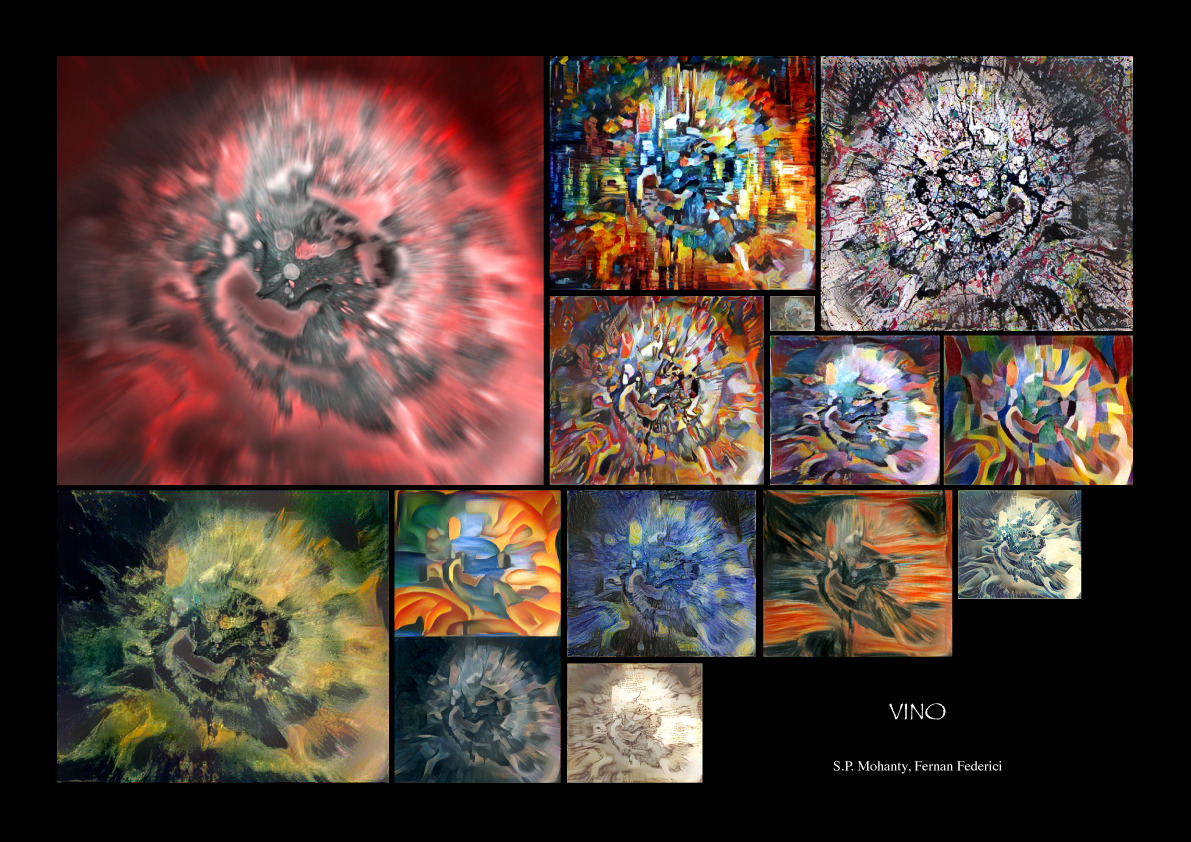 The source image of this piece is obtained by UV light microscopy of a drop of wine.
Bush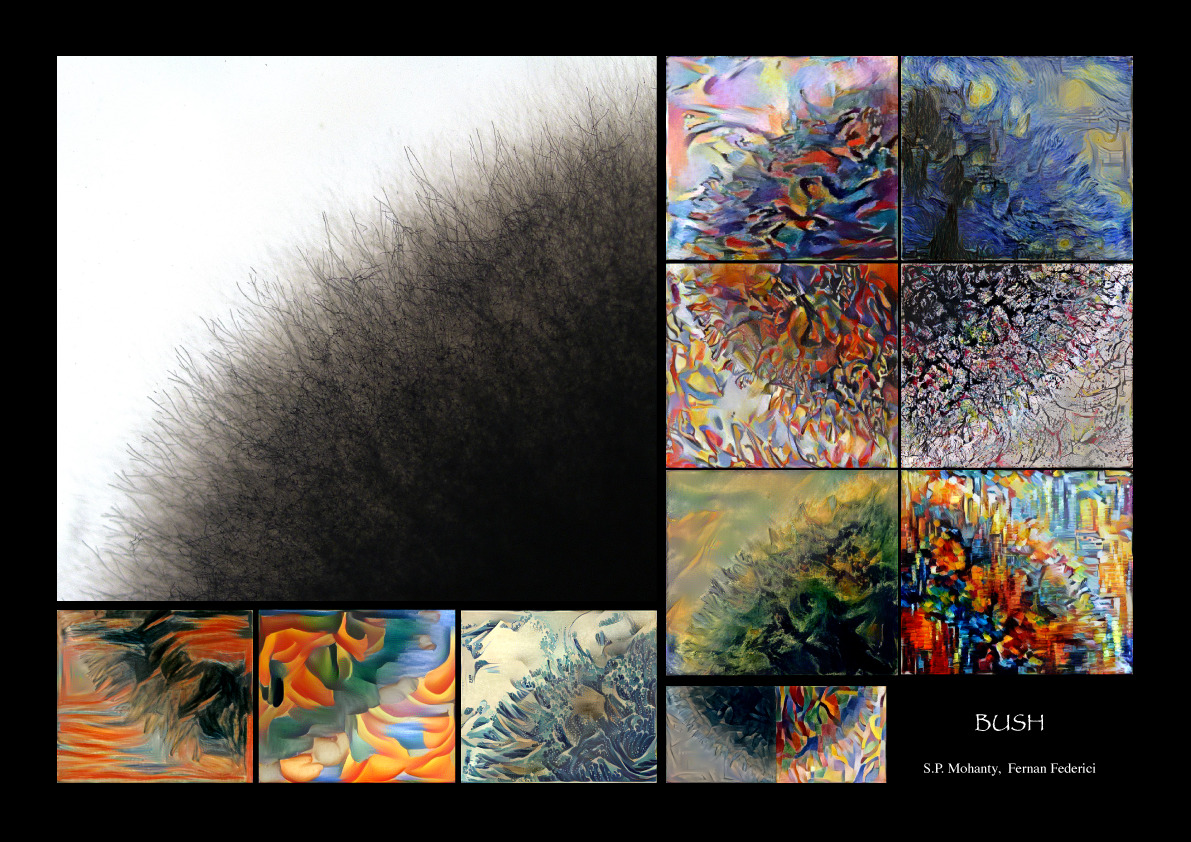 The source image of this piece is obtained by transmitted light microscopy of fungal micelia.
Citrus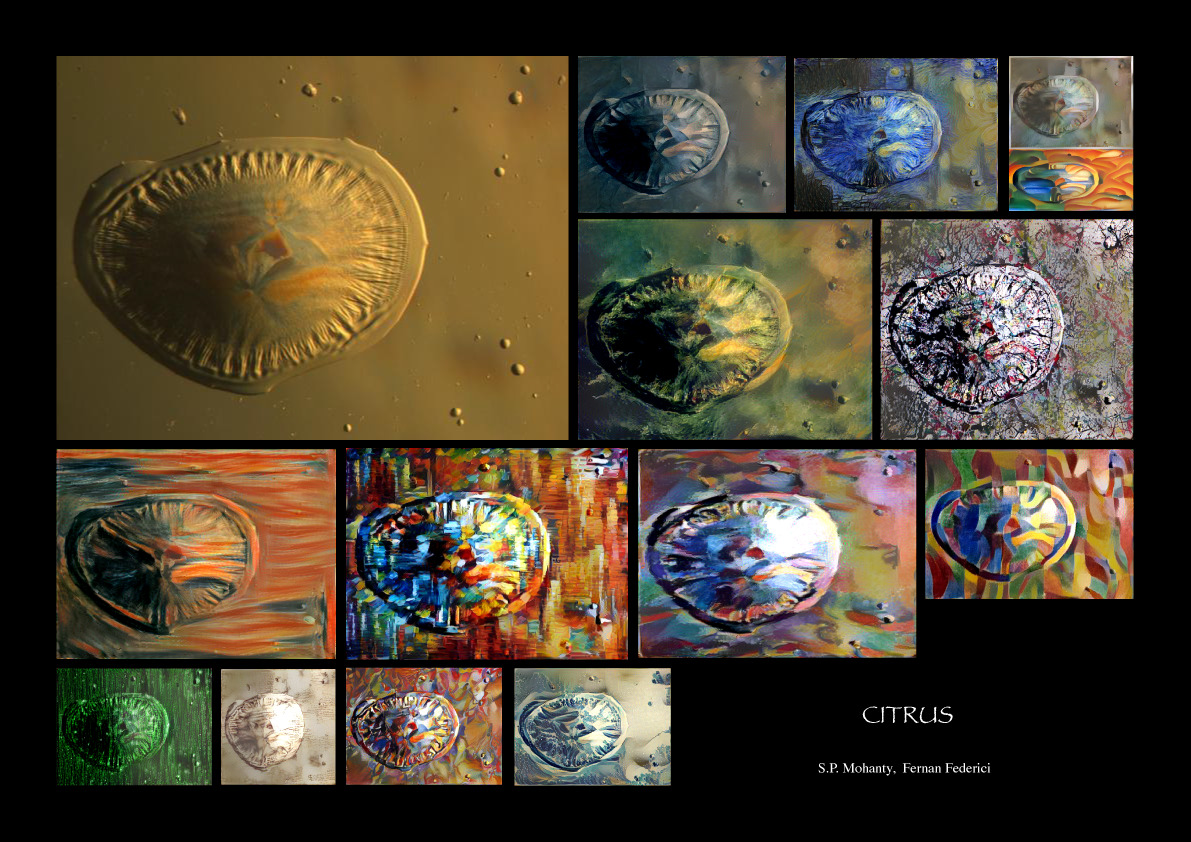 The source image of this piece is obtained by polarized light microscopy of citric acid.
Skoll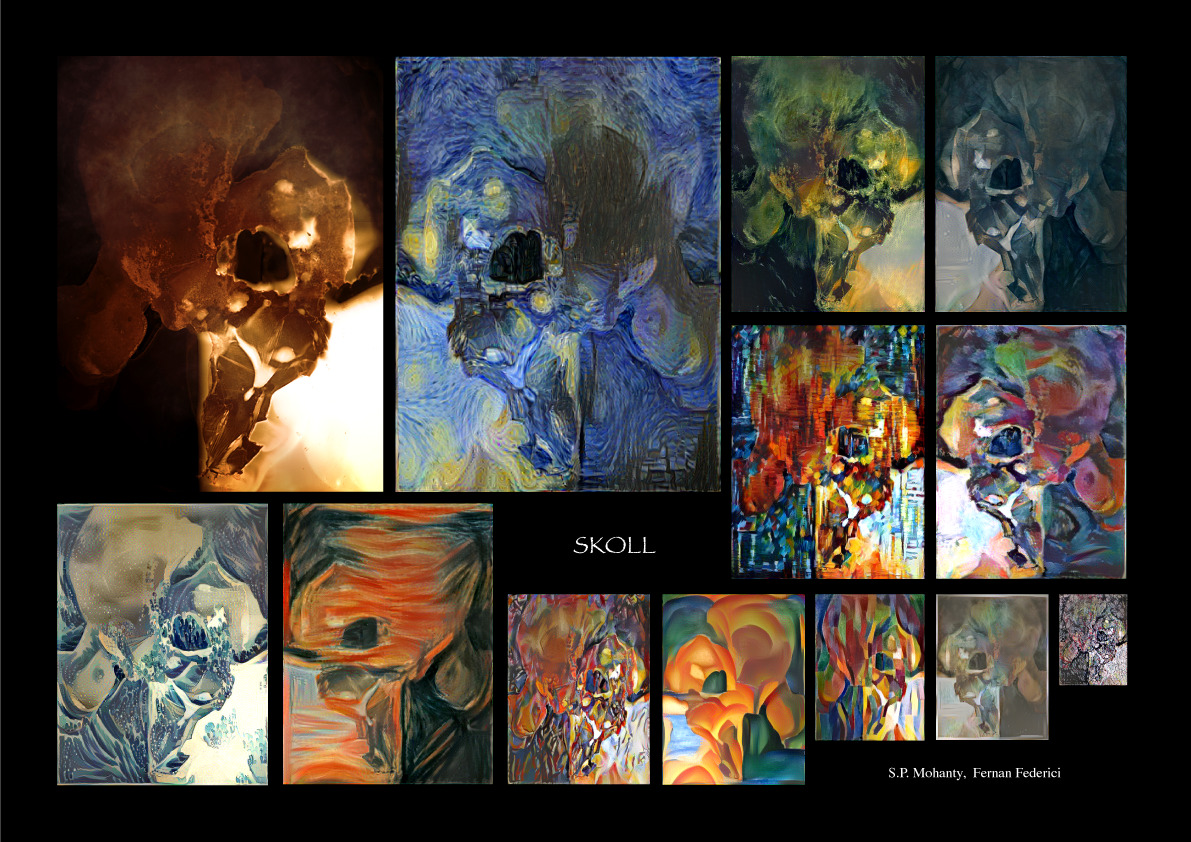 The source image of this piece is obtained by UV light microscopy of fluorescent highlighter dye in ethanol and mineral oil.
Acknowledgements
This work was generously supported by a Flash Grant from the Shuttleworth Foundation. Many Thanks to Francois Grey for his support and recommendation for the Flash Grant.
Many of the intial experiments were carried out on the IC-Cluster at École polytechnique fédérale de Lausanne and some of the final renderings were done on the Baobab Cluster at Université de Genève.
The source images for the whole installation were gathered over the years by Fernan Federici and his numerous collborators. Many thanks for all your patience and efforts.
The music used in the composite video was composed by Chad Crouch and is available here.
Team